Hundreds of thousands of people have gathered in Istanbul at the end of a 450km (280-mile) protest march against the government of Turkish President Recep Tayyip Erdogan.
More and more people have joined the "justice" march since it began in the capital Ankara on 15 June.
They were demonstrating against the mass dismissals and imprisonments that followed last year's failed coup.
President Erdogan has accused the marchers of supporting terrorism.
He said the Republican People's Party (CHP) – which has organised the march – had gone beyond political opposition and was "acting with terrorist organisations and the forces inciting them against our country".
The rally was the biggest show of defiance against President Erdogan since the Gezi Park protests four years ago.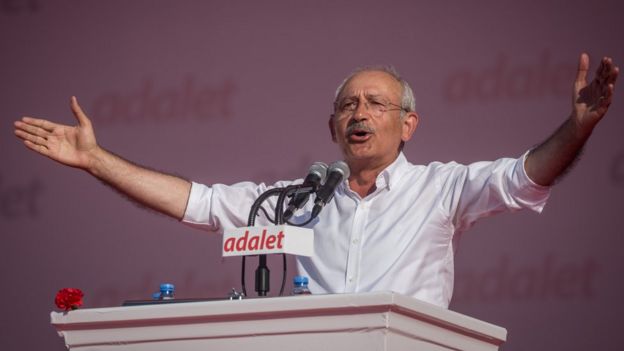 CHP leader Kemal Kilicdaroglu said the rally marked "a new birth".
He told the crowds: "Nobody should think this march is the last one. It's the first step!"
He launched the march after one of his MPs, Enis Berberoglu, was arrested for allegedly leaking documents purporting to show that the government was arming jihadists in Syria.
Mr Berberoglu denies the charge. Sunday's rally drew a sea of people to an area close to the jail in which he is being held.